Portugal, Algarve East
Livramento to Luz - 8.8 km - Wednesday 7th April 2004
Coastal farm tracks.
Photo Gallery - Click for Details and to Zoom - Top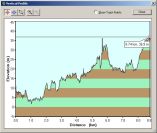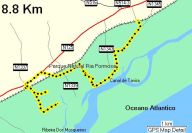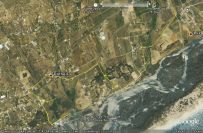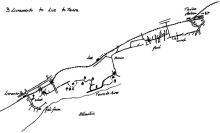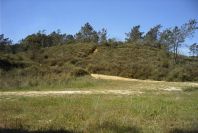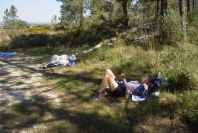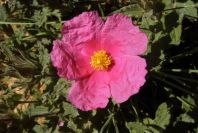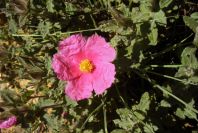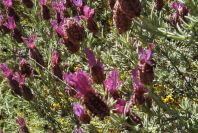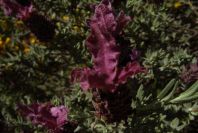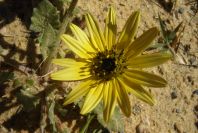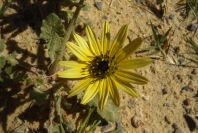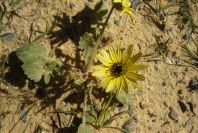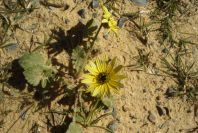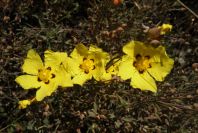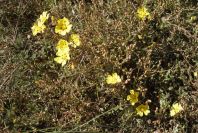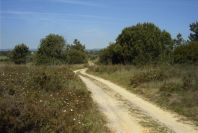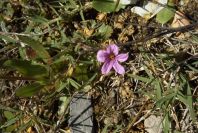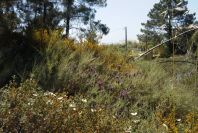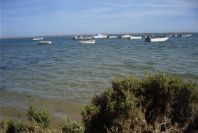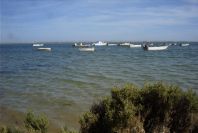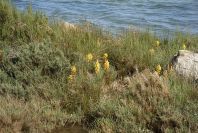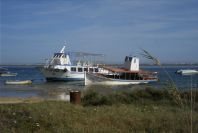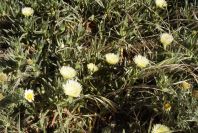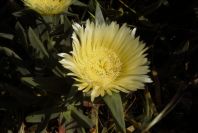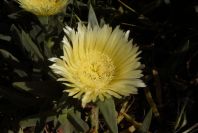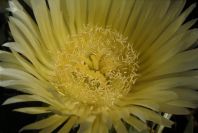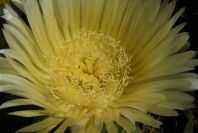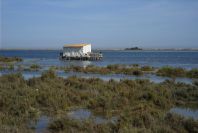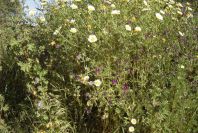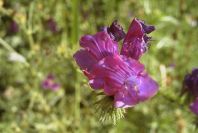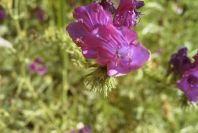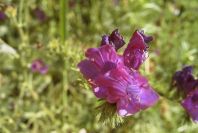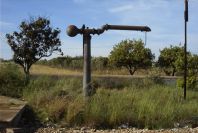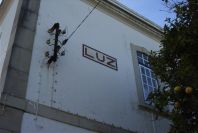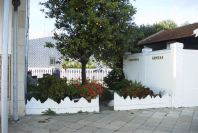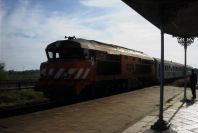 Diary - Top
Take the train to Livramento.
We crossed over the line at the eastern end of the station and then, if you want to have a look at the coast, head south towards the sea. Go all the way to end where there is a fish farm on the left. The estuary is very lovely and there were cockle pickers there collecting their lunch. We tried taking the track (clearly marked on the Hildebrand map as a through route) past the fish farm, and saw some baby ducks being shepherded through the salt flat vegetation. However, with the spring tides following the recent pre-Easter full moon, this soon petered out. This is nevertheless a spot well worth walking to.
We then headed back and tried other promising turnings in the right direction all to no avail. In the end we had to go back to the railway line, cross over it and then turn right along the main road and go along there. We had to do an extra 1 hour 10 minutes before the walk even started.
Leave the station and head north towards the main road. Turn right on to it and follow it until you get to right turn sign posted Torre de Aires (5 minutes). Go under the railway line and over a ditch (10 minutes) and continue on the same track soon crossing a surfaced road (25 minutes). When you see a track leading right into the trees (25 minutes) take it and then crossing a little glade before a house turn left (35 minutes) and briefly steeply uphill to a T-junction (40 minutes). Turn right here and follow the track as it winds through trees past some houses and down to the sea. When you get to the water turn left (50 minutes). You soon pass the Torre d'Aires - Bastante Antiga (1 hour 5 minutes). When the road swings inland, carry on along the track marked as a dead end. The track swings inland, passes a house on the right and becomes a narrow track (1 hour 15 minutes). You pass another house and, beyond it, there is a T-junction where you turn right. You are probably rejoining the track which swung inland earlier. You cross a stream (1 hour 20 minutes) and then take a left turn to get to Luz station which you can see a few hundred yards away (1 hour 35 minutes). When you get to the track, cross over the line and go to the station platform which is one your left (1 hour 45 minutes). We saw lots of bicycles chained to the railings at the crossing point ready for people when they came home.
Expedition Statistics
Margaret walked this leg. Distance: 8.80.
Transportation: Train.
Walk Time: 8:15 h:m.
Average Speed: 1.1 km/h.
GPS Logging: Logged.
Total distance this trip: 53.8 km.
Total distance from start: 195.8 km.
Minimum Altitude: 2 m.
Maximum Altitude: 37 m.
Total Ascent: 51 m.
Total Descent: 35 m.
Latitude: 37.079°
More Downloadable GPS Files
2004-04-07-Livramento-to-Luz.kml

2004-04-07-Livramento-to-Luz.gdb

GPX Files are in XML format and may be portable between different GPS receiver manufacturers
2004-04-07-Livramento-to-Luz.gpx

GPS Babel
GPS Babel is a really useful tool for translating between GPS file formats.